An organized cabling system is a unified set up of cables and related hardware that supplies an all-encompassing telecommunication network. Structured cabling provides a comprehensive and future-proof solution for managing the complex web of data, voice, and multimedia communication within a building or campus. It encompasses the cables, connectors, racks, and other hardware components to establish a robust network infrastructure.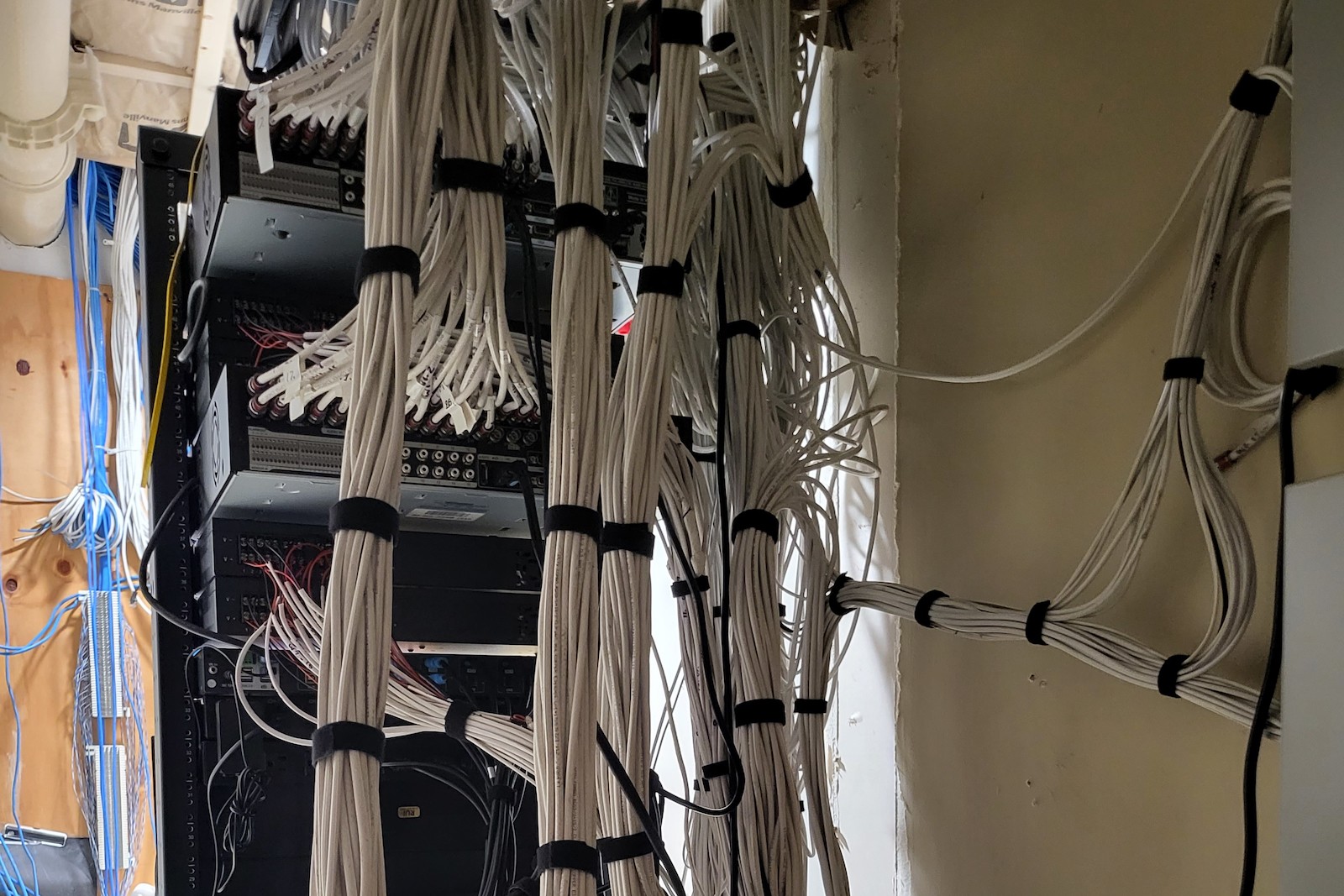 How does Structured Cabling Work?
A structured cabling system is designed with a standardized and structured methodology to create, install, and sustain a network. It builds a "structure" for an organization's digital infrastructure using patch panels and trunks. All the equipment is hooked up to an MDA (main distribution area), which functions as a junction for all the data that needs to travel from one point to another.
Structured cabling utilizes various parts such as twisted pair and optical cabling, patch panels, and patch cables and is organized into different topologies to suit customers' needs. This system consists of six components:
Entrance facilities. The location where the provider's cabling terminates and the firm's wiring starts is referred to as an entrance facility.
Equipment room. The location where equipment or consolidation points can be found.
Backbone cabling. The connection between telecommunication rooms, entrance facilities, equipment rooms, and buildings is provided by backbone cabling.
Telecommunications room. Telecommunication rooms serve as a hub to bring together and disseminate all digital transmissions by connecting horizontal and backbone cabling.
Horizontal cabling. Telecommunications equipment outlets are linked to the telecommunications room or enclosure by horizontal cabling.
Work area. The end user's equipment is linked to the ports of the horizontal cabling system by the components of the work area.
Each of these components has its purpose and provides many advantages, such as improved data transfer speeds, enhanced network performance, and the ability to troubleshoot and maintain the system as needed quickly.
Benefits of Structured Cabling
With structured cabling, businesses can achieve seamless connectivity, increased data transfer speeds, and enhanced overall network performance. It allows for easy scalability, enabling organizations to adapt and expand their network as their needs evolve.
Structured cabling simplifies troubleshooting and maintenance, reducing downtime and ensuring efficient operation. Structured cabling enables a systematic and orderly plan of designing, installing, and managing the network, resulting in smooth connectivity and optimized performance.
Structured cabling makes expanding and troubleshooting simpler and cuts down on downtime.
Structured cabling facilitates different types of communication, like data, voice, and multimedia, within a single building or campus.
Structured cabling systems are adjustable and malleable, enabling the addition of other applications and equipment without difficulty.
Structured cabling gives an all-encompassing solution that boosts dependability, scalability, flexibility, and cost-effectiveness for companies of all sizes. Kudox Network is a dedicated high-end, full-service low-voltage integration design firm that delivers flexible structured cabling solutions for companies. We use the most up-to-date materials, designs, and installation techniques to ensure our clients have the scalability to keep up with changing technological demands.
If you're interested in structured cabling for your business, reach out to Kudox Network. Call today (310-827-2288) or contact us to get a quote and discuss structured cabling solutions for your business.